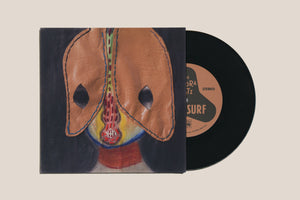 EP: THE TETORAPOTZ "NEW SURF"
THE TETORAPOTZ
1st Single(7inch EP)

Side A: New Surf
Side B: Vinegaroon

All Songs Written & Produced by THE TETORAPOTZ
Recorded, Mixed & Mastered by Tomoki Kakitani

Guitar & Vocals: Yasuhiko hayashi (Paramodel)
Bass & Vocals: Rintaro Hiramine (Mrs.Yuki)
Guitar & Vocals: Tomomi Okubo (Mrs.Yuki)
Drums: Izumi Kato
Conch Shell Horn: Takao Minami

English Translation: Terri Fujii
Photo: Kei Okano

Design: Ikuya Shigezane
A & R: Takuya Irie(POTZILAND RECORDS / SETENV)
-+-+-+-+-+-+-+-+-+-+-+-+-+-+-+-+-+-+-+-+-+-+-+-
THE TETORAPOTZ
THE TETORAPOTZ is a band that was born of an art exhibition. They are active primarily in the context of art museums, art projects, and art-related events. All aspects of musical, visual, stage, and record production are handled by the band members themselves, all of whom are also active independently in the visual arts.
Bass & Vocals: Rintaro Hiramine (Mrs.Yuki)  [Artist's Website]
Guitar & Vocals: Tomomi Okubo (Mrs.Yuki)  [Artist's Website]
Drums: Izumi Kato  [Artist's Website]
Conch Shell Horn & Synthesizer: Takao Minami  [Artist's Website]
Guitar & Vocals: Paramodel Yasuhiko Hayashi *Leaving the band in 2021

THE TETORAPOTZ は、美術の展覧会をきっかけにアーティストで結成されたバンド。主に、美術館やアートプロジェクトなど、アートと交わることのできる場所で活動を展開。作詞作曲、PV、レコードから舞台装置の設計までを、絵画、彫刻、映像やインスタレーションなどの各分野で活動するメンバー自身で全てを制作している。
ベース&ボーカル:平嶺 林太郎(Mrs.Yuki) [Artist's Website]
ギター&ボーカル:大久保 具視(Mrs.Yuki)[Artist's Website]
ドラム: 加藤 泉  [Artist's Website]
法螺貝&シンセサイザー:南 隆雄  [Artist's Website]
ギター&ボーカル:パラモデル・ハヤシヤスヒコ *2021年脱退
Photo: Yu Xing & Li Yang
Courtesy of Red Brick Art Museum, the Artist and Perrotin

Photo: Yusuke Sato