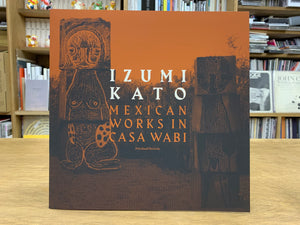 Book: "IZUMI KATO – MEXICAN WORKS IN CASA WABI"
IZUMI KATO
MEXICAN WORKS IN CASA WABI
A catalogue of a solo exhibition held at Casa Wabi, a seaside art foundation on the Pacific Ocean near Guatemala, Mexico, for one year beginning in 2019, and an outdoor sculpture project created in 2020 in collaboration with artist Bosco Sodi, who is a founder of Casa Wabi. Casa Wabi, where nature and art are fused with Tadao Ando's architecture, is located in the rich ocean and the majestic cactus plains and has a gallery and artist-in-residence facilities. This is a photo book that tells the story of the artist's activities during his stay at the site from the perspective of a photographer, Yusuke Sato and a collaboration with Ikuya Shigezane, a bookbinding designer who makes use of Sato's photographs. Accompanying the book is a brochure introducing a mask workshop at an elementary school and a live performance in the schoolyard performed by THE TETORAPOTZ in January 2020 as a community project of Casa Wabi.
メキシコのグアテマラに近い太平洋に面した海辺にあるアートファウンデーション、Casa Wabiにて2019年から1年会期で開催された個展と、2020年、Casa Wabiのファウンダーでもあるアーティスト、Bosco Sodiと共同作品として制作した野外彫刻プロジェクトをまとめたカタログ。 豊かな海と雄大なサボテン平原に、ギャラリーの他、アーティストレジデンスなども備えた安藤忠雄建築の自然とアートが融合されたCasa Wabi。作家が現地滞在して制作した活動を、写真家、佐藤祐介の目線で語る写真集のような1冊。 併せて、2020年1月、Casa Wabiのコミュティプロジェクトとして、THE TETORAPOTZが行った小学校でのマスク・ワークショップと校庭で行ったライブを紹介したパンフレットも付属。
Casa Wabi

Founded in 2014 by Mexican artist Bosco Sodi, the Casa Wabi foundation is a non-profit organization located in Puerto Escondido, on the Pacific coast of Oaxaca, south of Mexico City. Set between the mountains and the sea, the foundation and its grounds were designed by Japanese architect Tadao Ando. The foundation also invites world-renowned architects to work on a variety of architectural projects.
Casa Wabi operates a residency program inviting artists from all over the world and conducts community projects. It also has a gallery to hold annual solo exhibitions.
https://casawabi.org



IZUMI KATO: MEXICAN WORKS

This exhibition was held from January 2019 to January 2020.

In 2019, he had a solo exhibition at the gallery.
He used Mexican fabrics and local materials picked up around Casa Wabi for his works during his artist in residence.
In 2020, he created a sculpture in collaboration with his friend, Bosco Sodi at the garden.
The clay sculptures in Bosco Sodi's studio in Casa Wabi inspired him to propose and realize this collaboration.
He also developed a community project as a part of his solo exhibition.
As a member of an artists' band THE TETORAPOTZ, he conducted a mask-making workshops at a local elementary school and held a live performance.


SOLO EXHIBITION
Title: Izumi Kato
Date: February 2, 2019 – January 10, 2020
@ Gallery

SCULPTURE PROJECT:
Collaboration Izumi Kato and Bosco Sodi
Title: Untitled
Date: 2020
@ Garden


THE TETORAPOTZ:
WORKSHOP AND LIVE PERFORMANCE
@ Elementary school in Puerto Escondido, Mexico

MASK WORKSHOP
1st Session January 20, 2020
2nd Session January 22, 2020
@ Elementary School / Escuela Primaria Lázaro Cárdenas, Río Grande, Oaxaca

LIVE PERFORMANCE
January 27, 2020
Guest Artist: Marrio Navarro
@ Playground, Elementary School / Escuela Primaria Lázaro Cárdenas, Río Grande, Oaxaca





Photo by Yusuke Sato

Courtesy the artists and FUNDACIÓN CASA WABI

IZUMI KATO – MEXICAN WORKS IN CASA WABI

Edition: July 31, 2020

Edited by
Izumi Kato Studio

With assistance from
Amiko Izumi

Designed by
Ikuya Shigezane

Coordinated by
SETENV

With the kind cooperation of
Fundación Casa Wabi
Wild Valley Co., Ltd.

Published by
Potziland Recoreds

Printed by
KARC EAST

©︎ 2019 Izumi Kato
©︎ 2020 Izumi Kato and Bosco Sodi

ALL rights reserved. No part of this publication may be reproduced without permission of the publisher