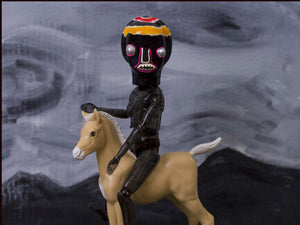 LP box set: HAKAIDERS "DEMO"
世界的に活躍している、BorisのAtsuoと美術家の加藤泉が90年代に在籍していたバンド"HAKAIDERS"の貴重なデモ音源を発掘、国内プレスによるアナログ化。
限定300セットの特別なボックスセットをリリース。

「HAKAIDERS」のメンバーは、Hara(Guitar & Vocal)、H.K eichikei(Bass & Vocal)、Atsuo(Drums & Vocal)、Izumi Kato(Drums)の4名。
今作のオリジナルは、1992年に YU-WA Label からリリースされたカセットテープになり、録音とミックスは Atsuo 自身が担当。今回、その音源を中村宗一郎氏のPeace Musicでマスタリングし、レコード化しました。


全体のアートワークは、加藤泉が担当。
近年のプラモデルの作品のシリーズにも通じる、加藤による作品とフィギュア、プラモデルなどを組み合わせて、ハカイダーズの世界を作り込んだ、このボックスセットでしか見ることができない、渾身のアートワークは必見です。
また、ボックスやリーフレットのデザインは、加藤泉の作品集の装丁なども手掛ける重実生哉氏にお願いし、国内のメーカーで丁寧に製作しました。

リーフレットには、小林英樹氏(WARSZAWA元店員)による熱のあるライナーノーツや貴重な写真も掲載しています。


Box set の内容:
12インチ重量盤(180g/国内プレス)、ボックス、リーフレット(12P/日英バイリンガル)
*シュリンクパッケージ
*限定 300 セット


HAKAIDERS "DEMO"

Hara(Guitar & Vocal)
H.K eichikei(Bass & Vocal)
Atsuo(Drums & Vocal)
Izumi Kato(Drums)

SIDE A
1. SAKISUKISA 03:34
2. FEVER OF DIE 02:17
3. KILL'EM ALL 02:20
4. SATAN SATAN 05:52

SIDE B
1. BLACK BOOGIE MAN 02:03
2. BLOW BLOW 03:04
3. NOTHING 01:55
4. OBEY ME 02:26
5. MOTHER 03:42

STEREO
33 1/3 RPM

Recording & Mix: Atsuo
Recorded at 8 Studio 22nd - 30th Mar 1992
Mastering: Soichiro Nakamura at Peace music 2020

Artwork: Izumi kato
Photo: Kei Okano
Design: Ikuya Shigezane
Print: KARC EAST
Production support: SETENV

PR-004
(P) & (C) 2020 Potziland Records / HAKAIDERS. All Rights Reserved.

MADE IN JAPAN






HAKAIDERS:

結成は1989年夏。Izumi Kato(Drums)とH.K eichikei(Bass & Vocal)が中心となり、秋には楽曲制作の中心となるHara(Guitar & Vocal)が加入。当初はもうひとりのギター・ハカイダーを加えた4人編成だったそうですが、方向性の違いにより、1990年の秋からは3人で活動。しかし、そのトリオ・ザ・ハカイダーのライブに衝撃を受けたAtsuo(Drums & Vocal)が自ら志願し、1991年春にラスト・ハカイダーとしてガッタイダー。そのときHaraは、PUSSY GALORE、VENOM、そしてSLAYERを今後の活動の参考として提示したといいます。その後1992年から1994年にかけて、東京でのライブ活動を頻繁に行ないながらも、1996年のライブを最後にフェードアウト。
ただ、それでも彼らの衝撃的なステージは、しっかり覚えていますね。WARSZAWA主催のイベントにも出演してもらったのですが、下北沢シェルターのあのステージにツインドラムを詰め込んで、ギュウギュウの空間から雪崩まくる怒ノイズ&怒ビート&怒グルーヴ&怒シャウトったら! シェルターの四方八方から押し潰されてしまうかのような圧の塊に慄いたものです。(中略)世間だの時流だのをハカイダーショットで撃ちまくり、ヘヴィグルーヴで地を切り裂きながら、己自身だけをズドンと真ん中におっ立て、猛スピードで当時のシーンを爆走していったのです。ブルドーザー200キロ超えってなもんですよ。その道程は本当に短いものだったけれど、彼らのHAKAIDERSスピリットは、本当に真摯で、本当に自由で、偉大なる欲求と、偉大なる若気の至りに溢れていたんです。
(WARSZAWA元店員 小林英樹氏によるライナーノーツより抜粋)


boris:
1992年結成、96年にTakeshi、Wata、Atsuoという現在のメンバー編成へ。
活動当初から29年を経た現在も一貫して独自の方法論、自らの想い描く"Heavyさ"を追求。
"重さ"は深度を深めつつ、固定化されたジャンルやスタイルに捉われない特異な音楽性は、総天然色のリアル"Heavy Music"と言えよう。世界の先端のロック・シーンにおいて「ゲーム・チェンジャー」とも呼ばれ、その影響力も計り知れない。トレードマークとなっている「轟音・爆音」はその形容だけでは語りきれぬ領域へ突入している。
2022年には活動30周年を迎えるが、その創作の充実度、先鋭化は更に高まりを見せるばかりだ。

https://www.borisheavyrocks.com
https://www.instagram.com/borisdronevil/
https://twitter.com/Borisheavyrocks

tag: 
#borisheavyrocks
#borisdronevil


加藤泉:
1969 年島根県⽣まれ。
2007年ヴェネチア・ビエンナーレ国際美術展(イタリア)参加より国際舞台で活躍。主な個展として、Red Brick Art Museum (北京、2018年)、Fundación Casa Wabi (プエルト・エスコンディード、メキシコ、2019年)、原美術館/ ハラ ミュージアム アーク(東京/群馬、2館同時開催、2019年)、SCAD Museum of Art (サバンナ、米国、2021年) など。現在、K11 MUSEA(香港、2021年)に野外彫刻を展示中。また2022年はハワイ・トリエンナーレやフランスのアートプロジェクトに参加予定。
http://izumikato.com/

-+-+-+-+-+-+-+-+-+-+-+-+-+-+-+-+-+-+-+-+-+-+-+- 
A rare demo of the band HAKAIDERS, in which Atsuo of the world-famous Boris and artist Izumi Kato were members in the '90s, has been unearthed and pressed in Japan as an analog version. A special box set of 300 limited edition was released.
Potziland Records is pleased to announce the release of the HAKAIDERS album DEMO.
The four members of HAKAIDERS are Hara (Guitar & Vocal), H.K eichikei (Bass & Vocal), Atsuo (Drums & Vocal), and Izumi Kato (Drums).
The original of this album was a cassette tape released by YU-WA Label in 1992, recorded and mixed by Atsuo himself. This time, it was mastered by Soichiro Nakamura's Peace music and turned into a vinyl record. Izumi Kato is in charge of the entire artwork of the album. He created the world of HAKAIDERS by combining artwork with figures and plastic models, which is similar to the series of plastic model works in recent years. The full-length artwork, which can only be seen in this box set, is a must-see.
The box and leaflet are designed by Ikuya Shigezane who also worked on the design of Izumi Kato's artist books and are carefully produced by a domestic manufacturer. The leaflet includes enthusiastic liner notes by Hideki Kobayashi (a former WARSZAWA store staff) and valuable photos. Feel free to pick up and take a look. 
boris:
Boris formed in 1992, and eventually arrived at the band's current lineup of Takeshi, Wata, and Atsuo into '96. In the 29 years since, Boris has tirelessly explored their own rendition of what is heavy through methods entirely their own. Though the depths of their "heaviness" may intensify, their unique musicianship defies classification in any one genre or style, so let's just call it real "heavy music" in extreme color. Their music has been called a "game changer" regarding the leading edge of the world's rock scene, and that influence is limitless. They enter realms that cannot be described simply in terms of the "explosive sound" or "thunderous roars" that have become their trademark. In 2022 Boris will greet their 30th anniversary as a band, but they only intend to show further elevation in the substantiality and intensity of their works.

https://www.borisheavyrocks.com
https://www.instagram.com/borisdronevil/
https://twitter.com/Borisheavyrocks

tag: 
#borisheavyrocks
#borisdronevil
Izumi Kato:
Born in 1969 in Shimane, Japan. In 2007, the 52nd Venice Biennale International Exhibition (Italy), and Izumi Kato has since been active on the international stage since participating in the 2007 Venice Biennale International Art Exhibition in Italy. His recent solo exhibitions include Red Brick Art Museum (Beijing, 2018), Fundación Casa Wabi (Puerto Escondido, Mexico, 2019), Hara Museum of Contemporary Art, Tokyo / Hara Museum ARC (Tokyo / Gunma, Concurrent exhibition, 2019), and SCAD Museum of Art (Savannah, USA, 2021) and others. His outdoor sculpture is It is currently exhibited his public work at K11 MUSEA (Hong Kong, 2021). In 2022, he will participate in the Hawai'i Triennial (Honolulu, USA) and an public art project in France.
http://izumikato.com/