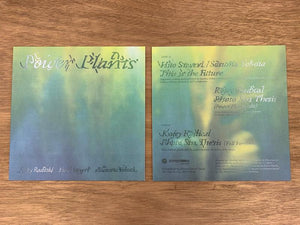 LP: Hito Steyerl / Kojey Radical / Susumu Yokota "Power Plants"
ヒト・シュタイエルによるフィルム・インスタレーションのサウンドトラック。
コージェイ・ラディカル、ススムヨコタとのコラボレーションになる。
アートワークは、
ヒト・シュタイエルによるもの。
Hito Steyerl / Kojey Radical / Susumu YokotaPower Plants
The Vinyl Factory
The soundtrack to Hito Steyerl's new film installation Power Plants features a new collaboration between UK star Kojey Radical and one of the world's most influential and important visual artists and thinkers, and a beatific ambient classic by late Japanese producer Susumu Yokota.
* Two track EP pressed on clear heavyweight 180g vinyl
* Featuring a new Kojey Radical recording and an ambient classic by Susumu Yokota
* Artwork by Hito Steyerl
* Designed by Ayham Graowi
* Limited edition of 500 copies
Exhibited at The Serpentine from April to May 2019, Power Plants features a new film work in an immersive installation that expands throughout the building. Co-commissioned with The Store X, it revolves around anticipating the future in unpredictable ways, using Artificial Intelligence. Situated between cinema and fine art, Steyerl's work develops from research, interviews and found images, culminating in installations that interweave documentary with dream-like montage.
The images and sound within the film are generated via AI, a specially-developed algorithm that warps and morphs inputted data. Produced by The Vinyl Factory, the soundtrack accompanying the film is a collaboration with British musician, rapper and sound artist, Kojey Radical, whose lyrics have similarly been placed through an algorithmic reconfiguration.
Steyerl's new film is the first video installation to show the closest possible portrayal of the future.
A1: Hito Steyerl & Susumu Yokota: This is the Future / Kojey Radical: Photo Sin Thesis (Power Plants edit)
B1: Kojey Radical: Photo Sin Thesis (Full Version)