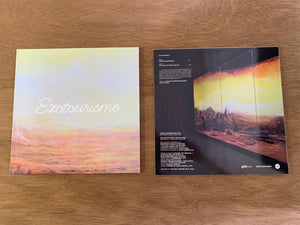 LP: Exotourisme "Pangea Innamorata"
ドミニク・ゴンザレス=フォルステルとジュリアン・ペリッツ(音楽プロデューサー/DJ)による作品。
ExotourismePangea Innamorata
The Vinyl Factory
* 2 track EP from the Exotourisme duo; artist Dominique Gonzalez-Foerster and producer J.Perez.
* Pressed on 180gram heavyweight orange vinyl
* Outer sleeve and inner sleeve artwork design by DGF
* Sleeve artwork features: Joi Bittle, 2018, Cosmorama (GFZK Leipzig)
* Ltd ed. of 300.
* Release date: 17/01/2019
Side A – Pangea Innamorata
Side B – The Year of Sweet Abacaxi
Artist Dominique Gonzalez-Foerster and producer Julian Perez's Exotourisme project blends experimental electronic soundscapes, 'SF-telluric' texts and a fascination with replicant apparitions.
Pangea Innamorata is written specially by the philosopher, Paul B. Preciado. The EP will be performed, along with others, at the duo's Exotourisme Ballardian alpine pool concert at Elevation Frequencies festival, Gstaad – 01/02/2019. Which will be presented by LUMA in collaboration with The Store X Vinyl Factory.